We love hearing from our customers. Please share your feedback here.
From Singer Song Writer, Katie Ferrara
From Little Girl Big World Blog
"I literally haven't taken it out of my hair since I received it! 🥰
I love how easy it is to use and how perfect the bun looks!"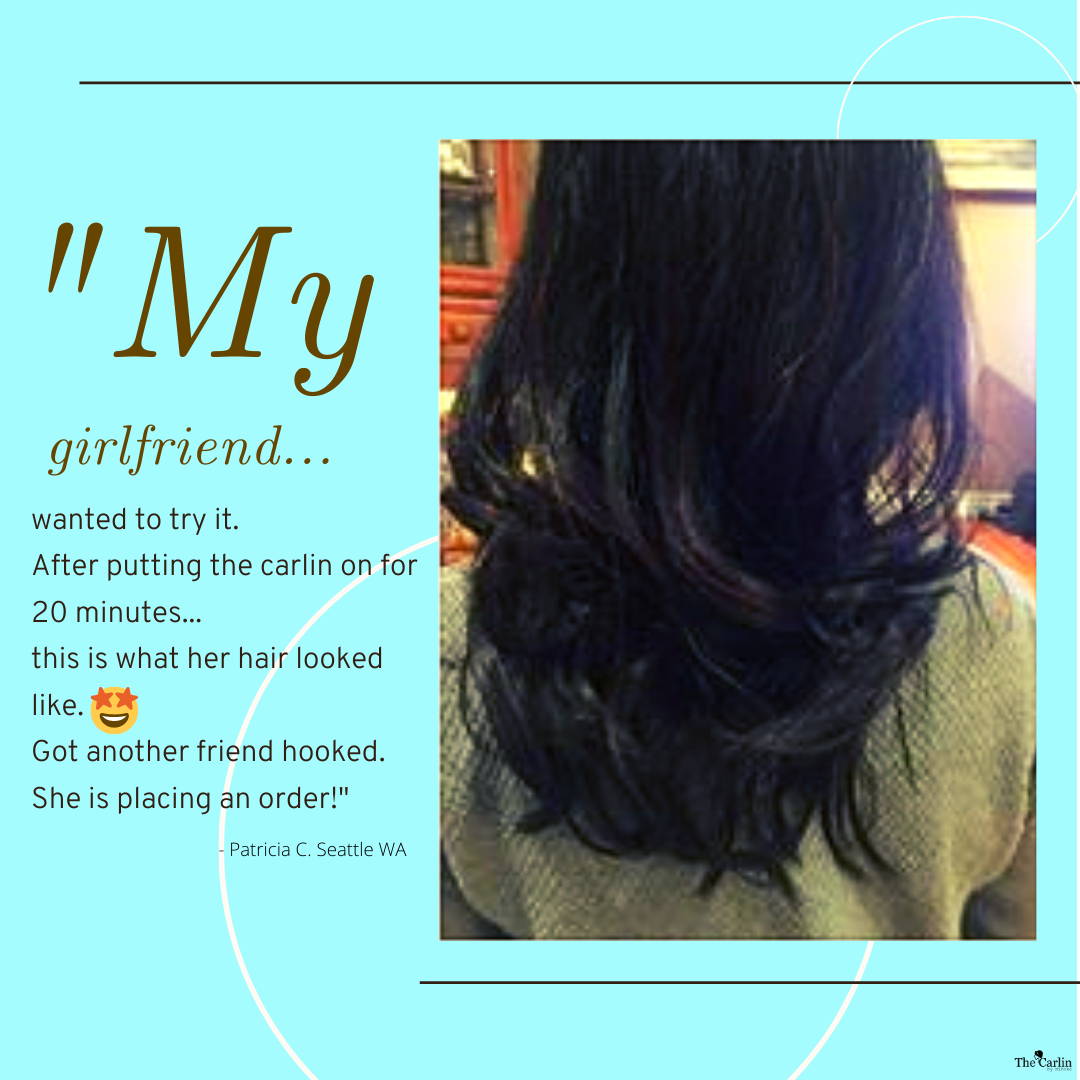 "My girlfriend wanted to try it. So ...after putting the carlin on for 20 minutes, this is what her hair looked like.
Got another friend hooked. She is placing an order!"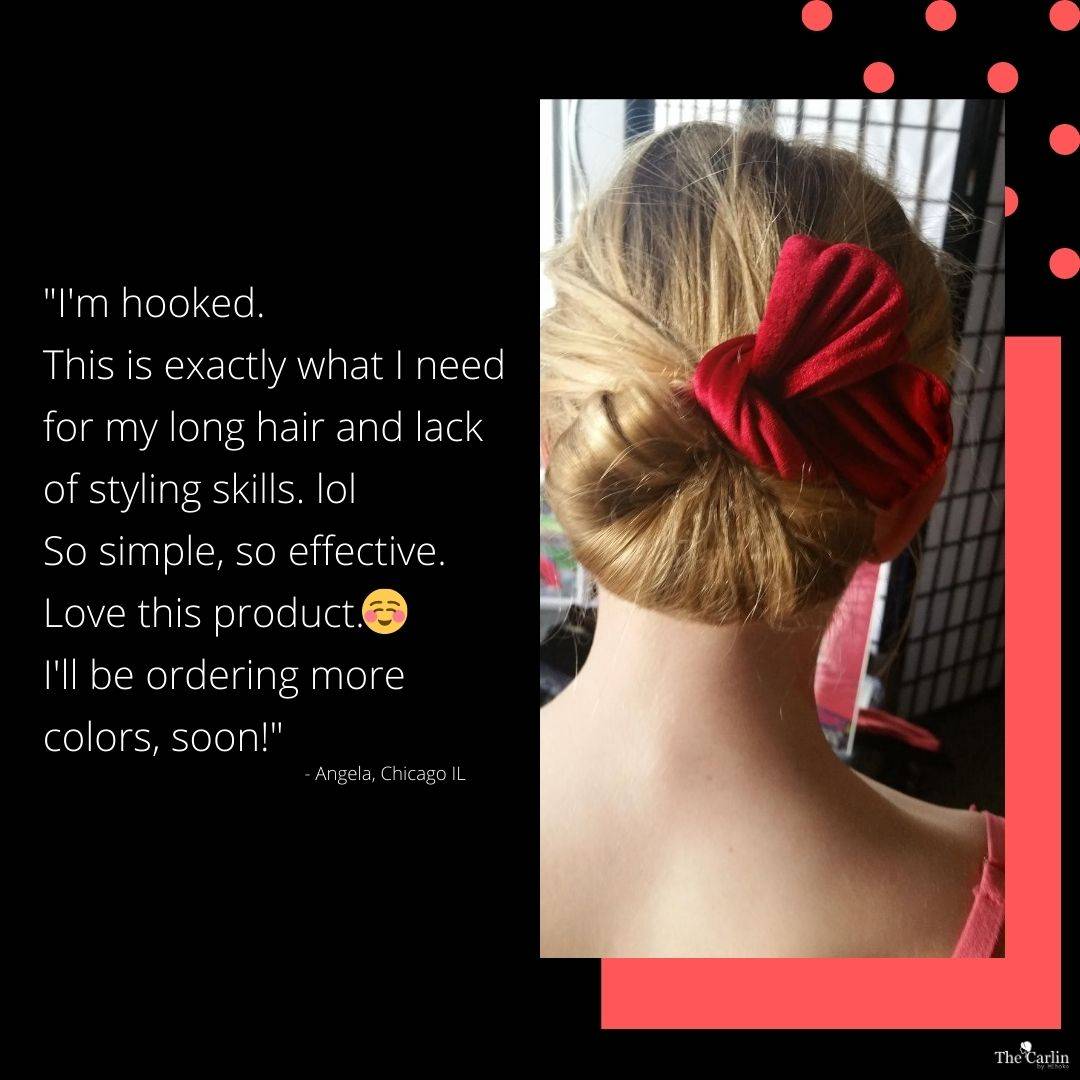 "I'm hooked🌹.
This is exactly what I need for my long hair and lack of styling skills. lol
So simple, so effective. Love this product.🥰
I'll be ordering more colors, soon!"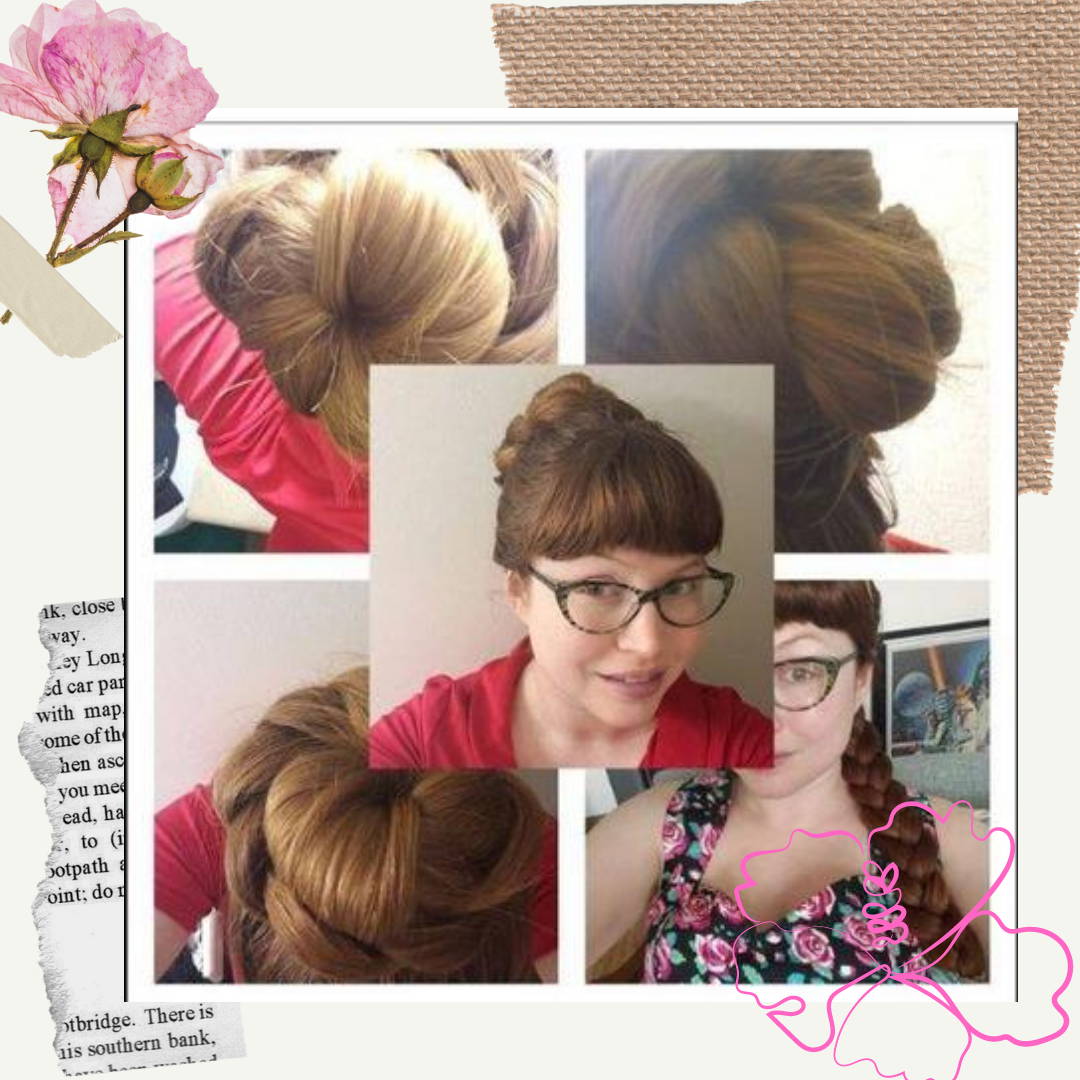 "My hair is waist length and thick so I couldn't master the typical Carlin method. Instead, I found I could fold my hair first end up with a sorta retro beehive, or I could use it to secure a braid or bun on my head. Here's an example. Normally styles like this don't feel secure without damaging clips so I'm glad the Carlin is so soft. I am including a small image of my braid just for reference of how much hair I'm working with here. This is a great tool! Happy I ordered!"
"This is my new favorite hair product. I tried it for the first time today. My hair is fine and does not curl easily, but I got great results with almost no effort. Plus when it's in the bun, it's surprisingly secure and chic. Love it!"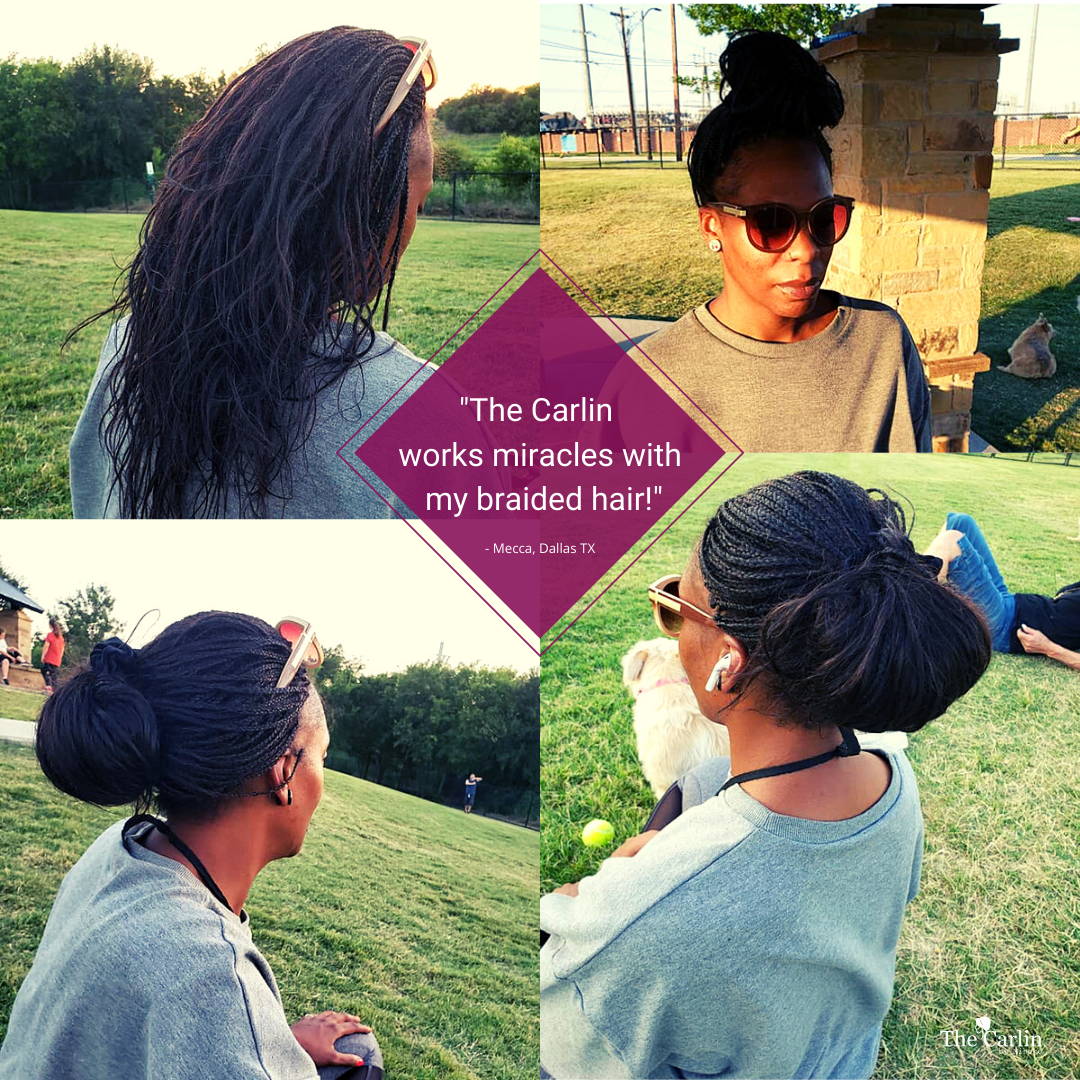 "It's amazing. I have a lot of braids. It holds it all together and it is so comfortable! "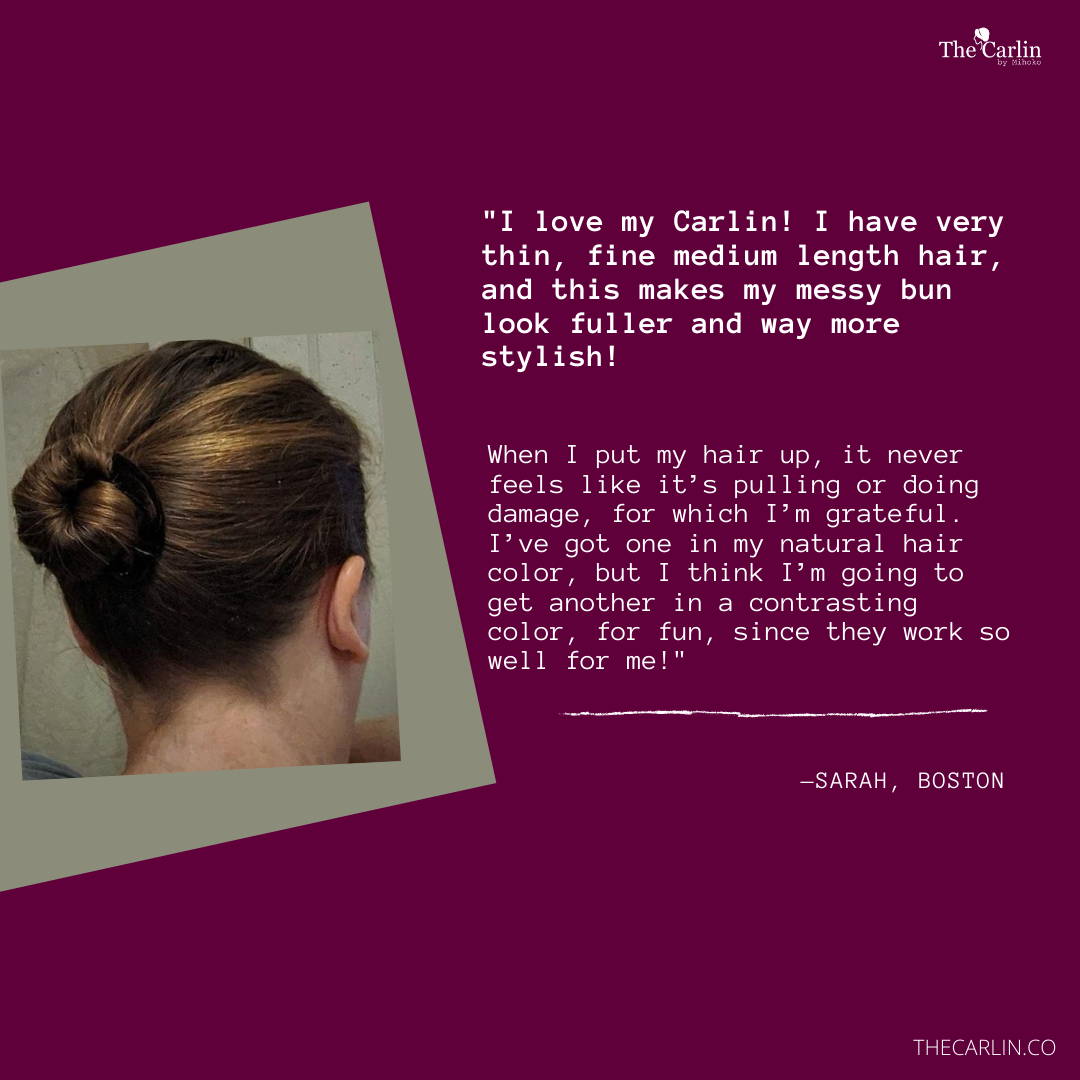 "I love my Carlin! I have very thin, fine medium length hair, and this makes my messy bun look fuller and way more stylish!
When I put my hair up, it never feels like it's pulling or doing damage, for which I'm grateful. I've got one in my natural hair color, but I think I'm going to get another in a contrasting color, for fun, since they work so well for me!"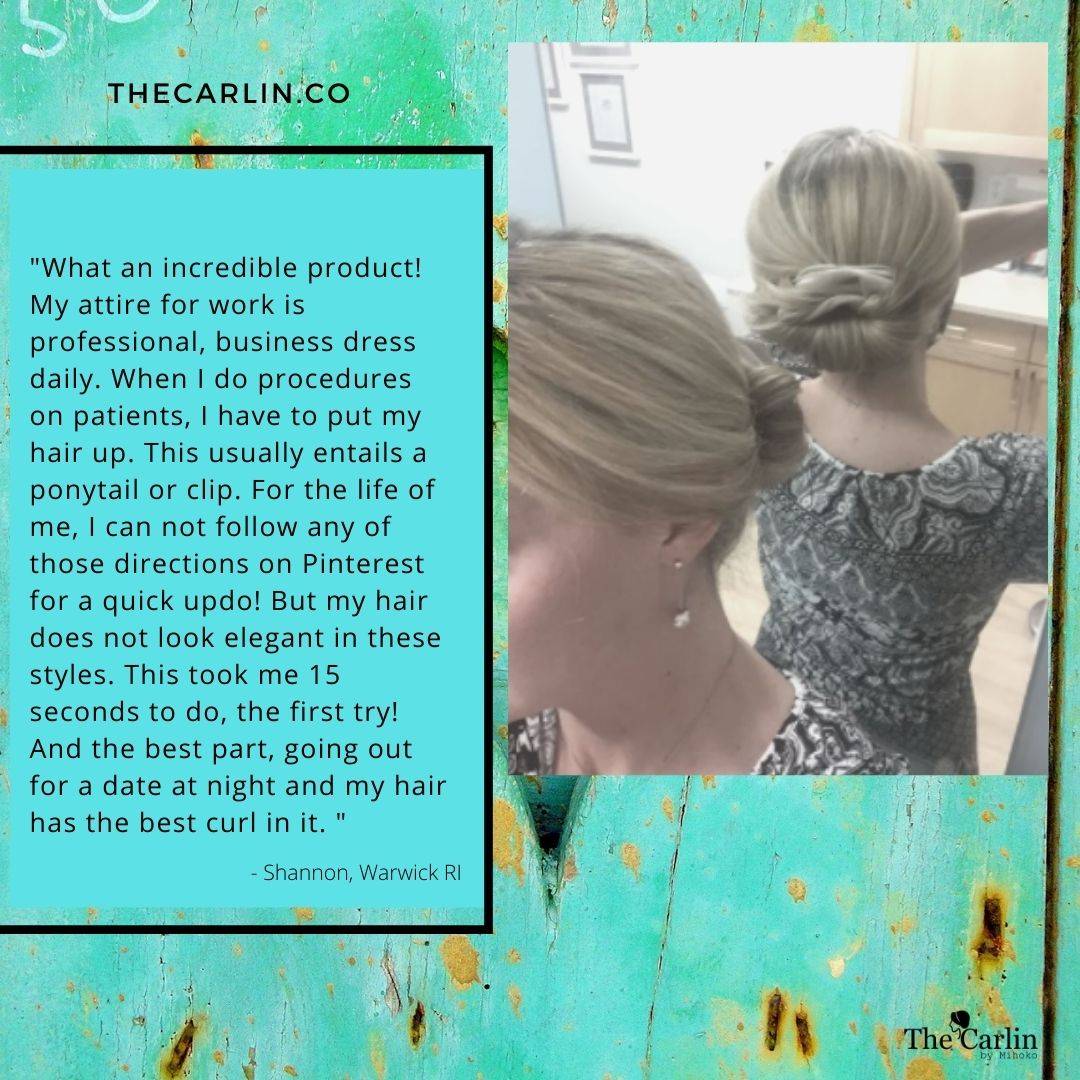 "What an incredible product! My attire for work is professional, business dress daily. When I do procedures on patients, I have to put my hair up. This usually entails a ponytail or clip. For the life of me, I can not follow any of those directions on Pinterest for a quick updo! But my hair does not look elegant in these styles. This took me 15 seconds to do, the first try! And the best part, going out for a date at night and my hair has the best curl in it. "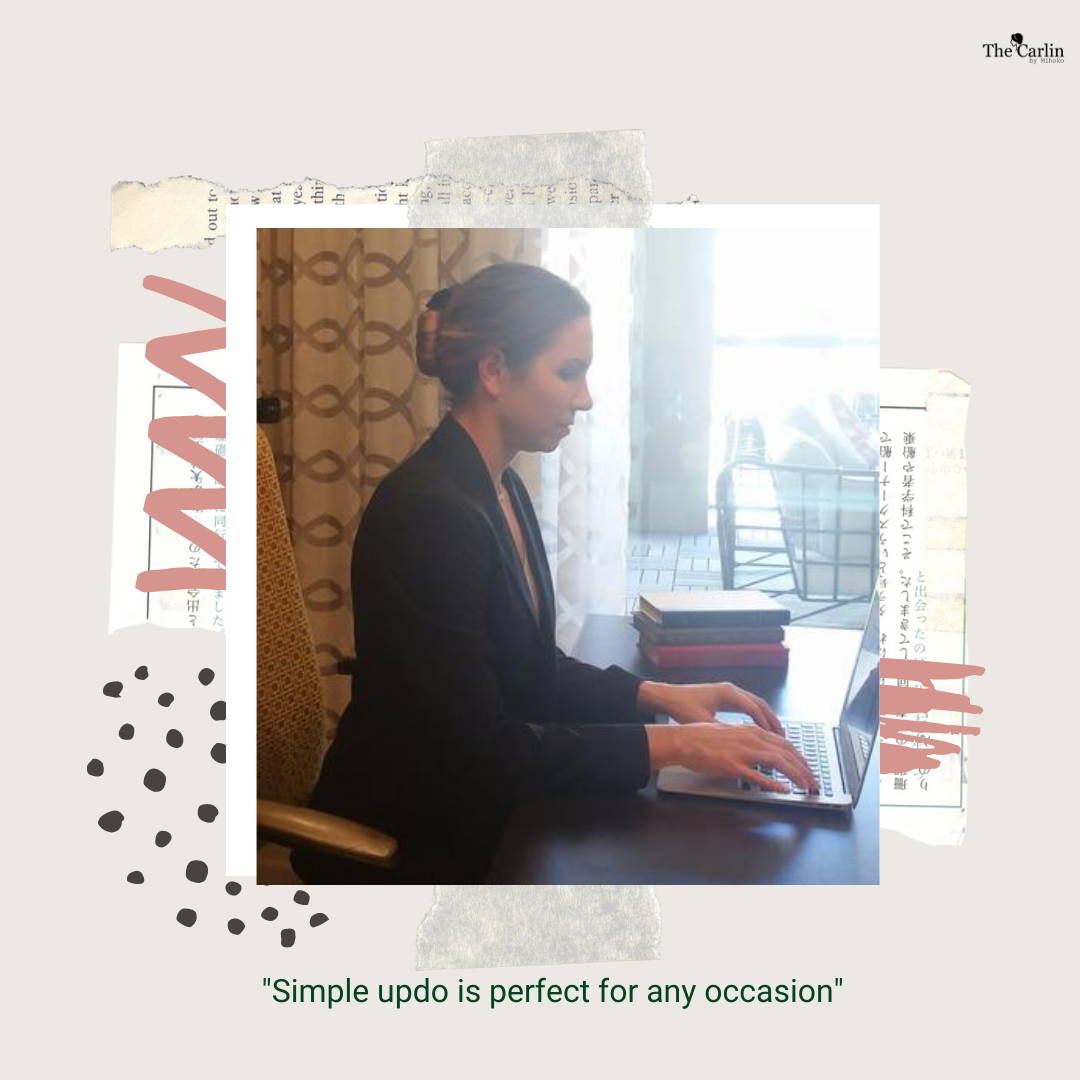 "Perfect for any occasion! "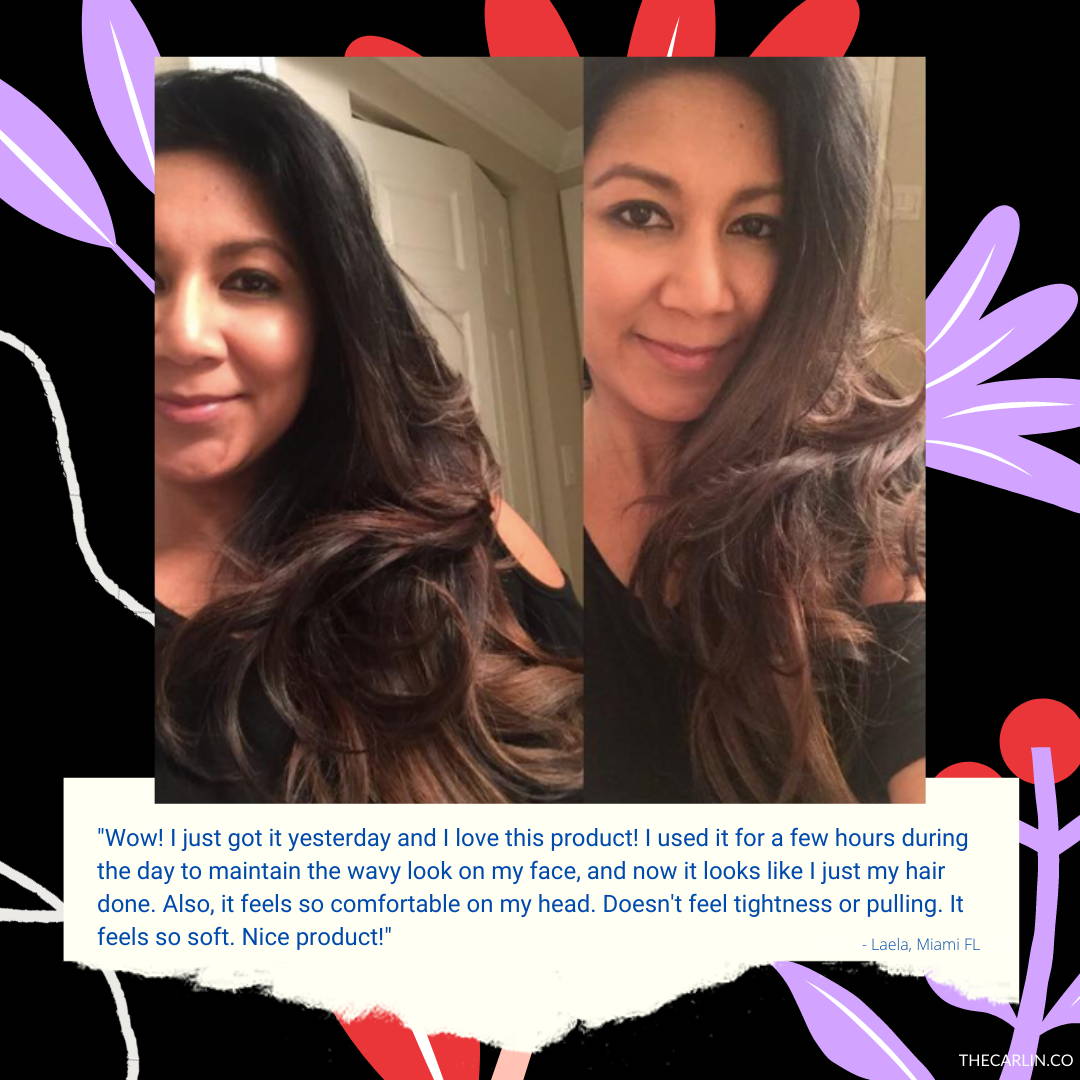 "Wow! I just got it yesterday and I love this product! I used it for a few hours during the day to maintain the wavy look on my face, and now it looks like I just my hair done. Also, it feels so comfortable on my head. Doesn't feel tightness or pulling. It feels so soft. Nice product!"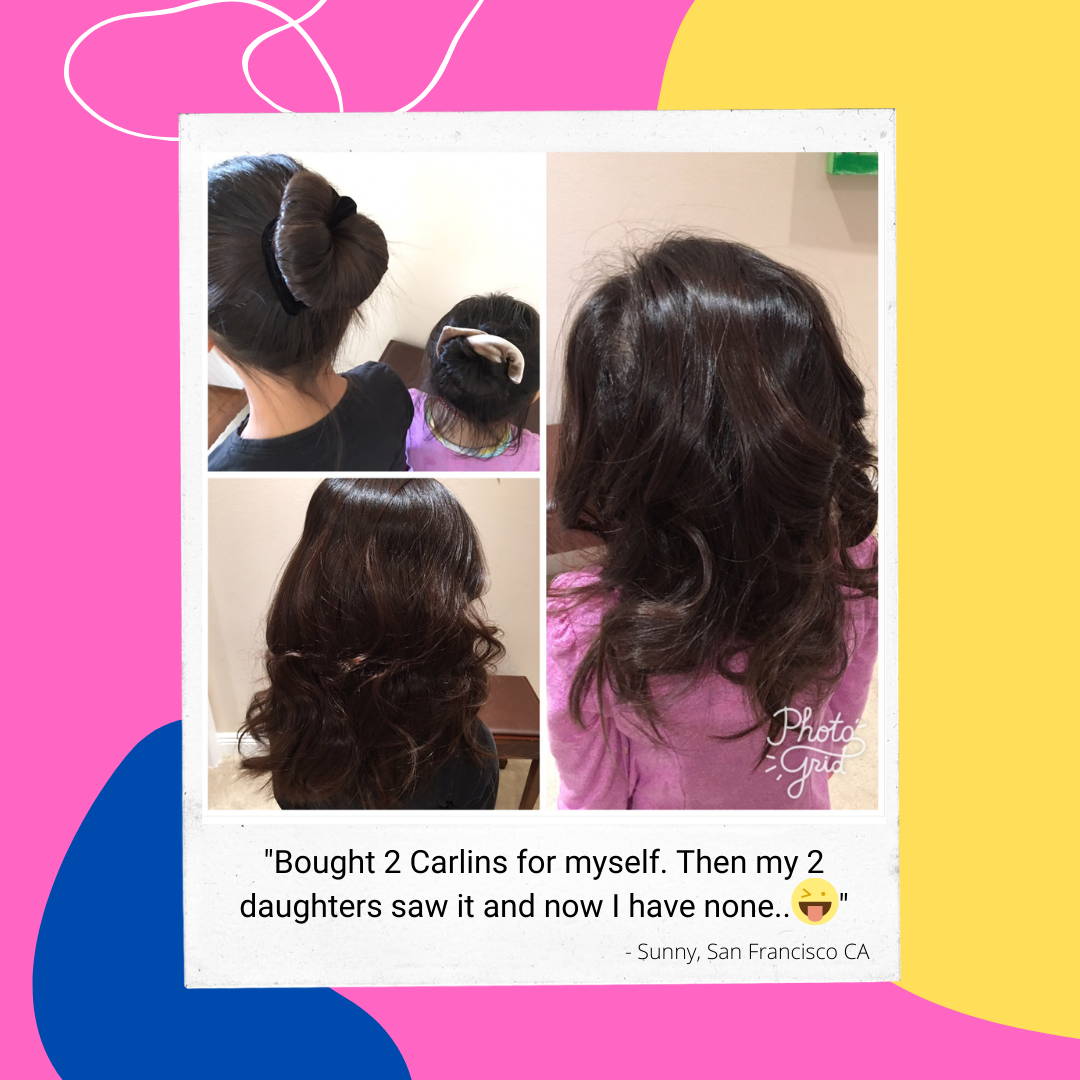 "Bought 2 Carlins for myself. Then my 2 daughters saw it and now I have none🤣"
- Sunny, San Francisco CA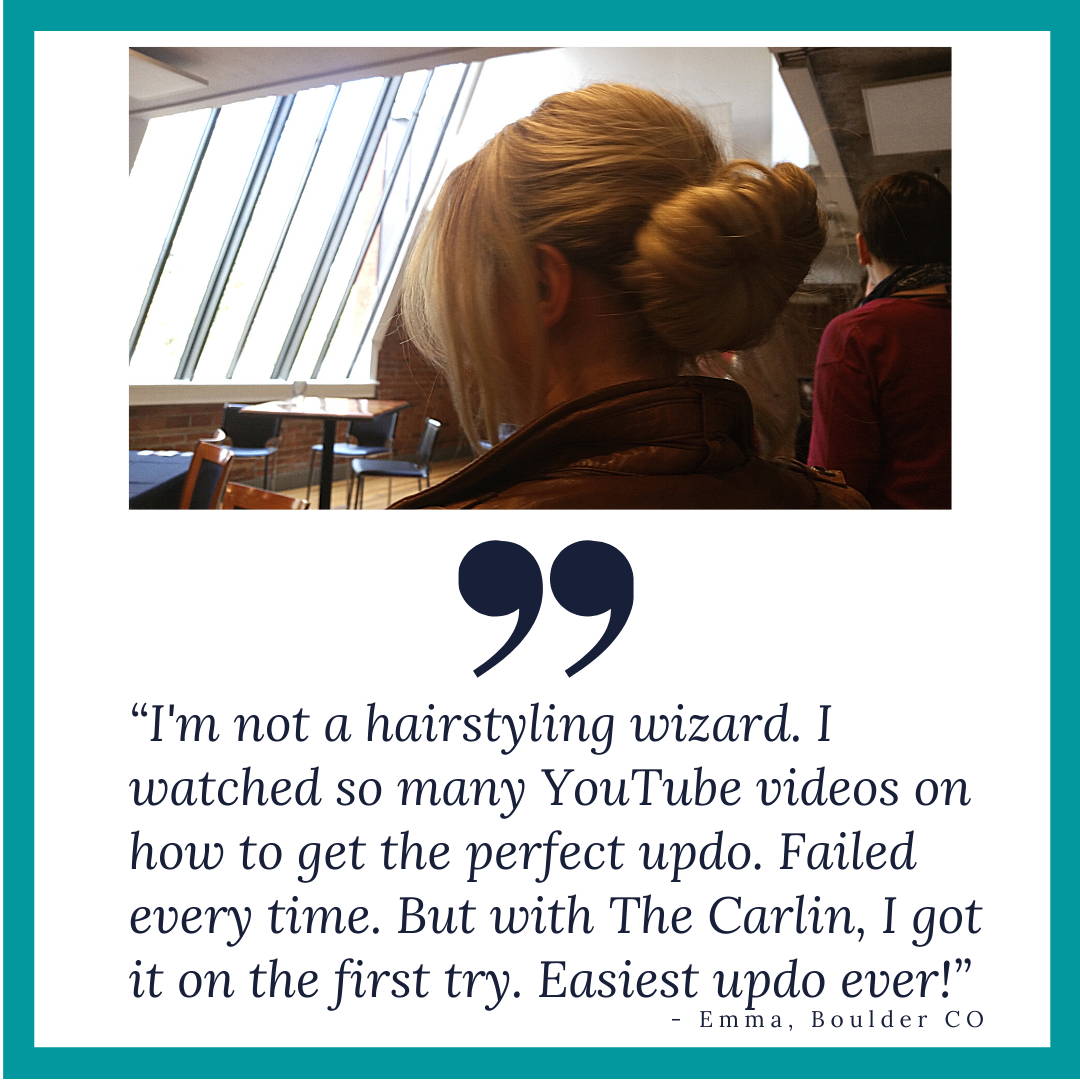 "I'm not a hairstyling wizard. I watched so many YouTube videos on how to get the perfect updo. Failed every time. But with The Carlin, I got it on the first try. Easiest updo ever!"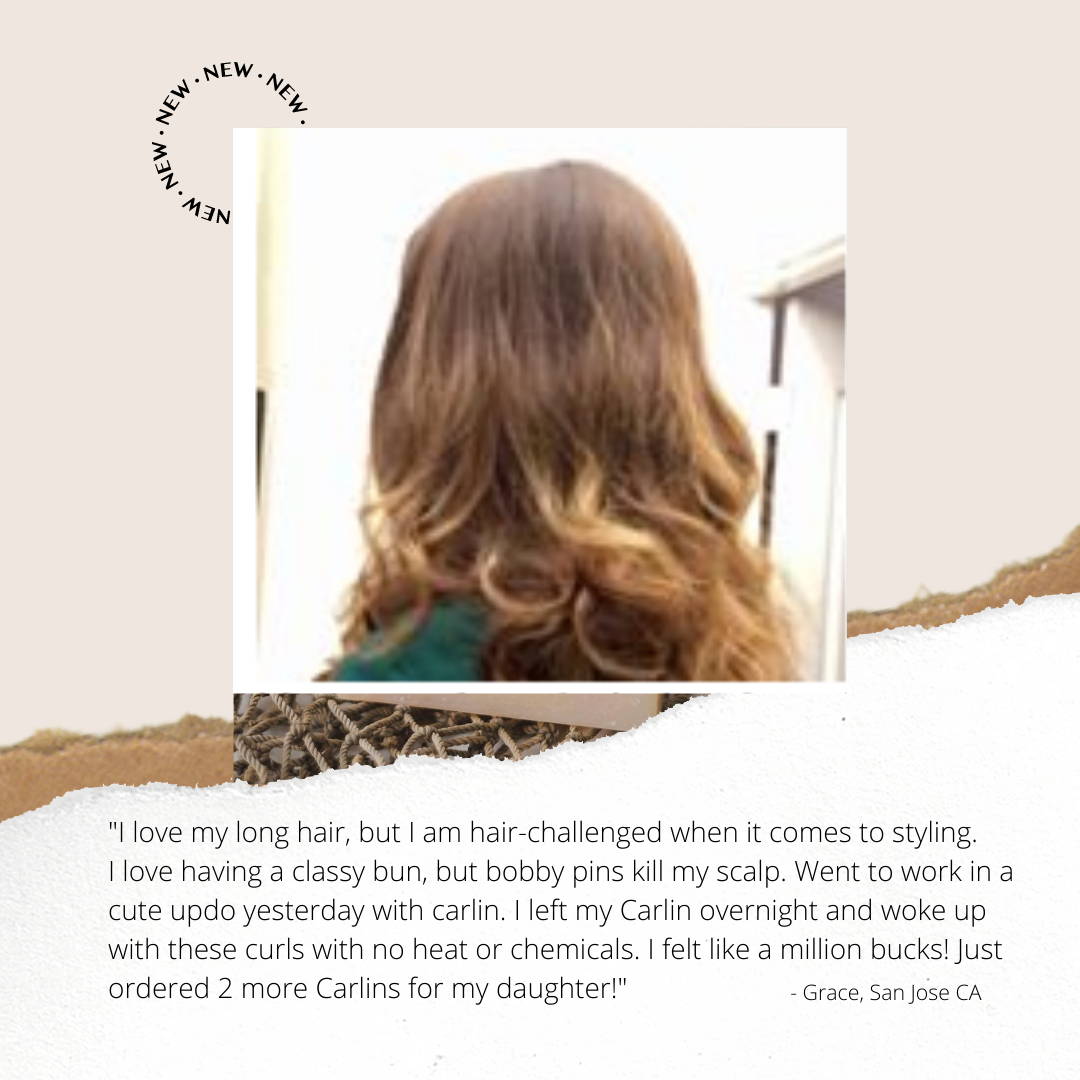 "I love my long hair, but I am hair-challenged when it comes to styling. I love having a classy bun, but bobby pins kill my scalp. Went to work in a cute updo yesterday with carlin. I left my carlin overnight and woke up with these curls with no heat or chemicals. I felt like a million bucks! Just ordered 2 more Carlins for my daughter!"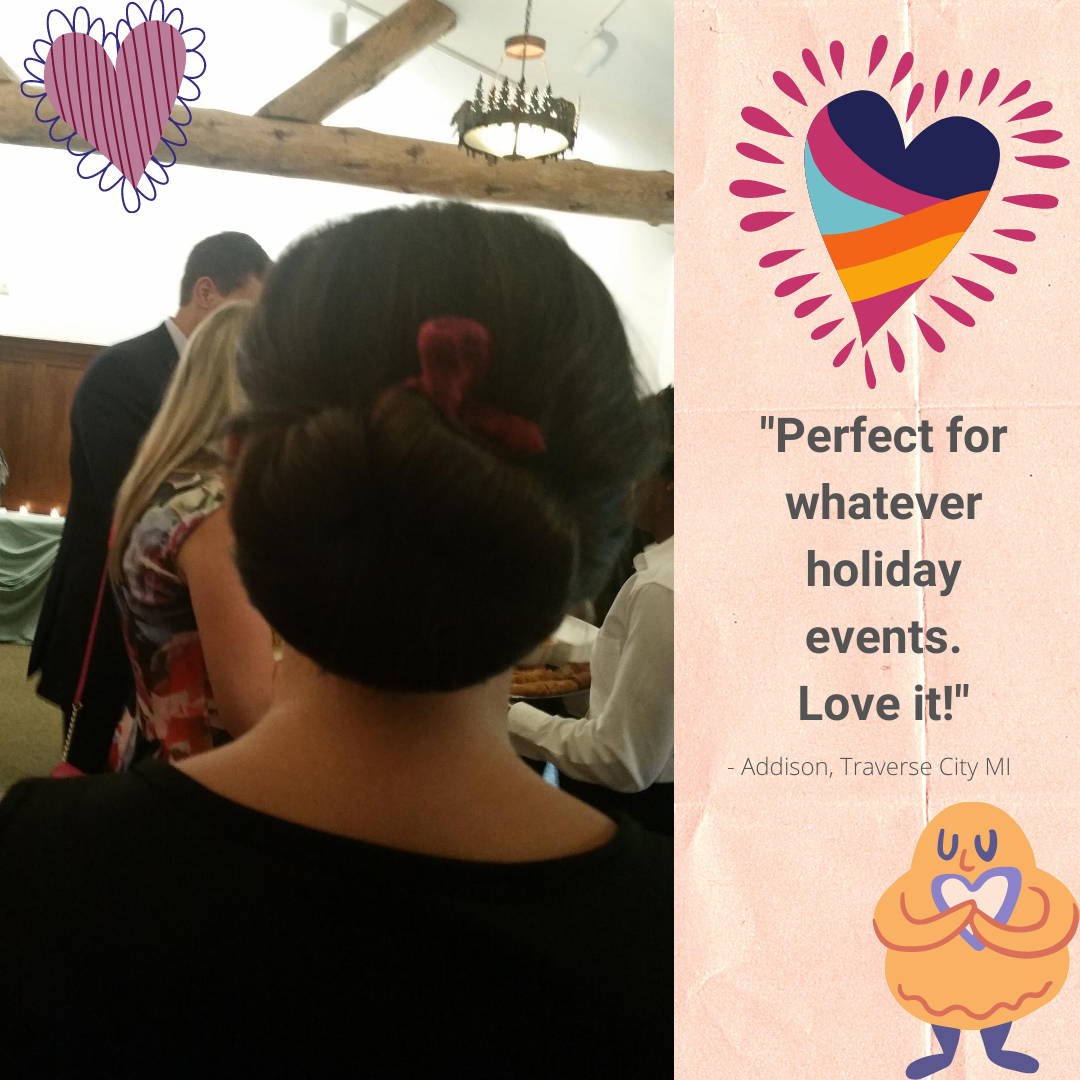 "Perfect for whatever holiday events.
Love it!"
- Addison, Traverse City MI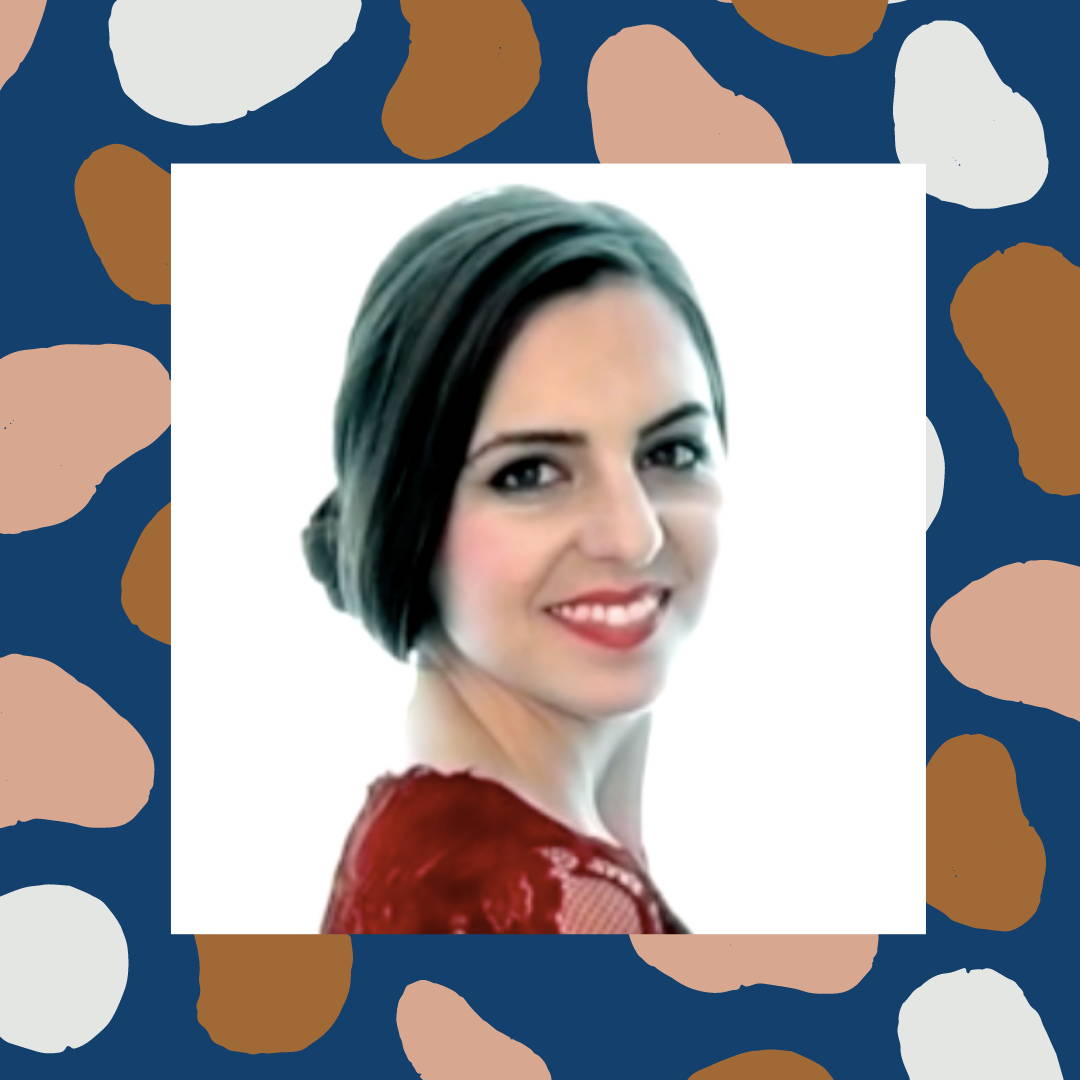 "Great product! I'm recommending it to my friends. Easy, fast, and fun!"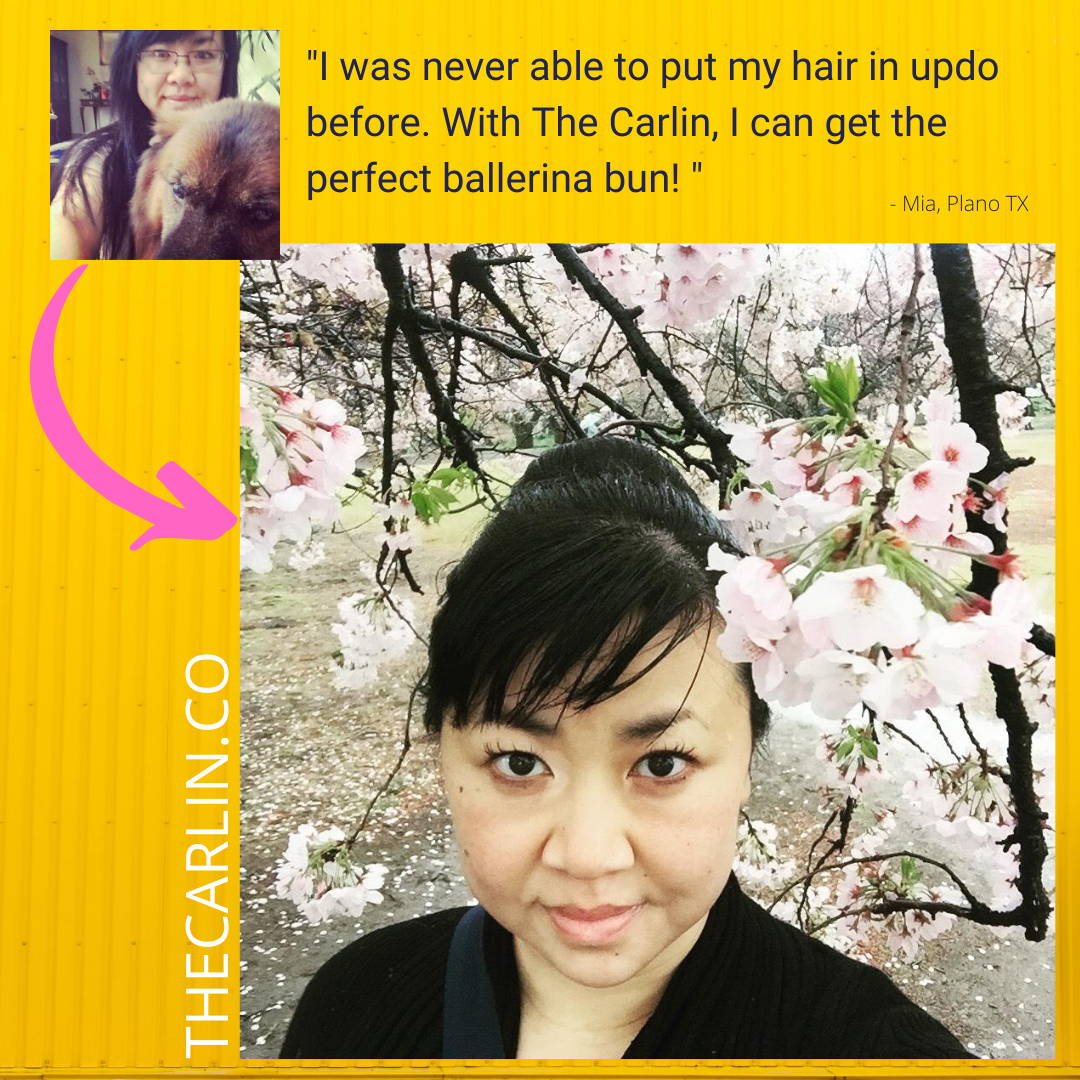 "I've always loved a neat high bun. But my hair is way too layered and there has always been too much of it. Even professional stylists have trouble getting it into a neat bun and often convince me to just curl it and pile on top of my head.
With The Carlin, I put my hair into a high ponytail and curl it towards the front; it hides all in layers in the middle of the bun and the longest layers make the bun look neat. No bobby pins needed. Thank you so much."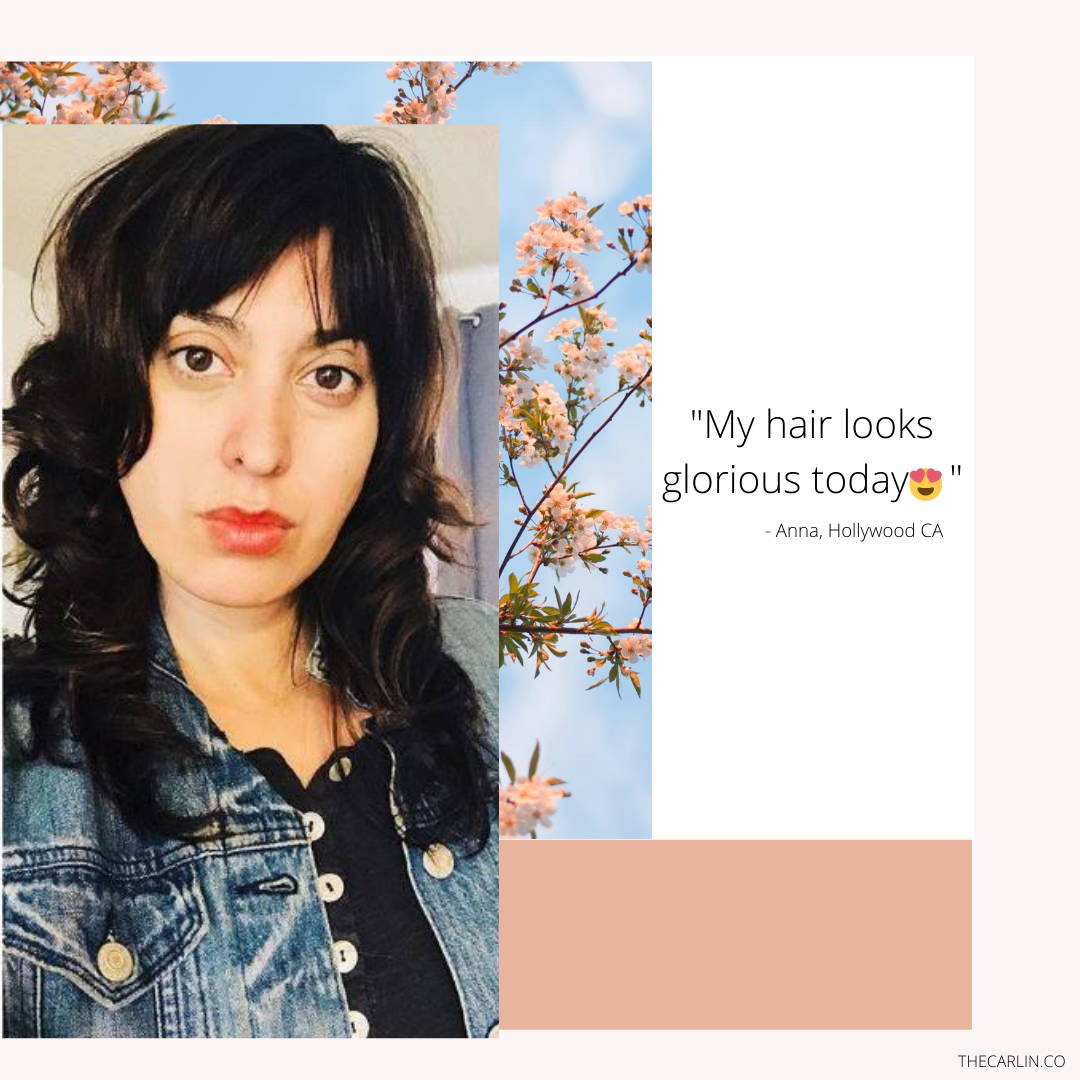 "My hair looks glorious today😍"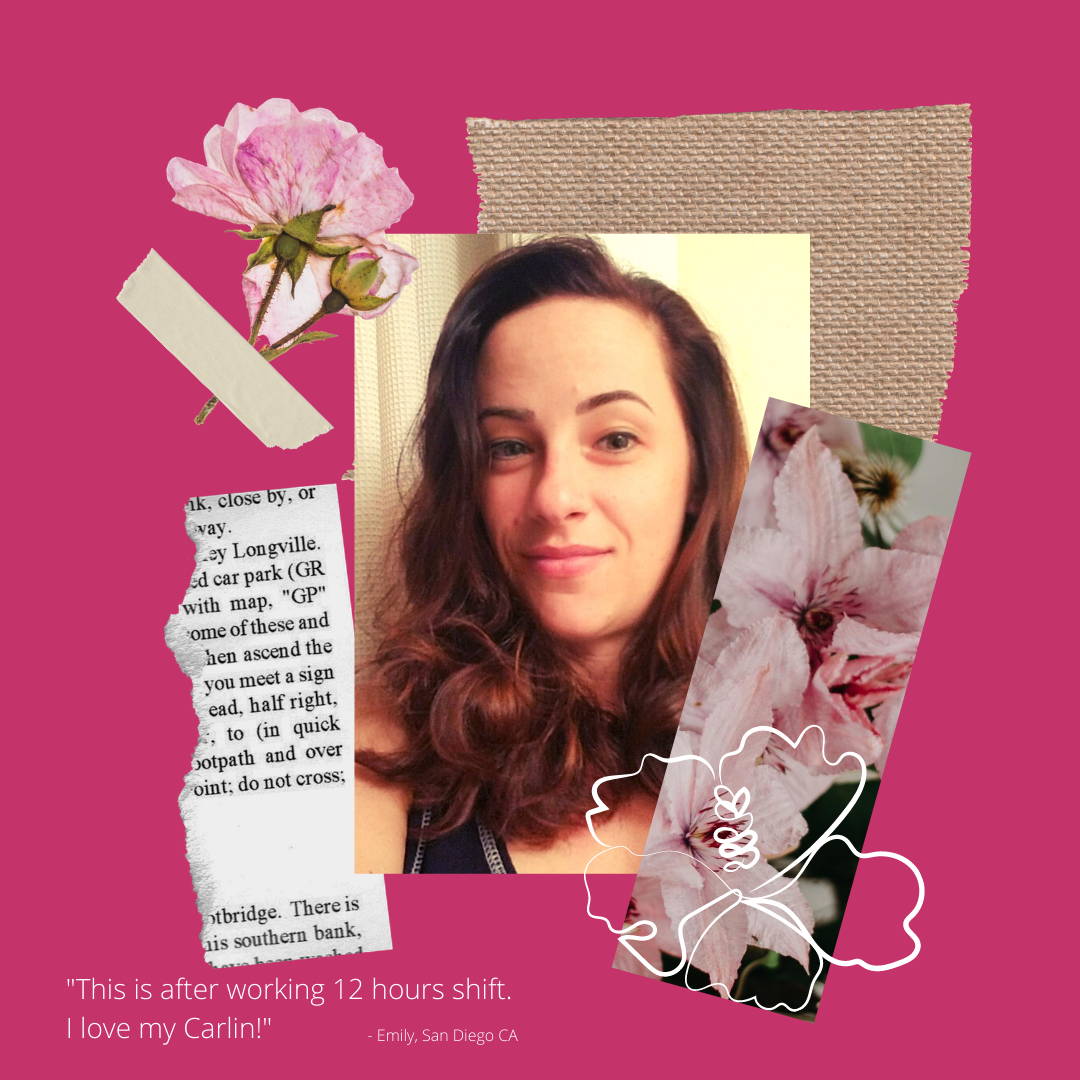 "This is after working 12 hours shift. I love my Carlin!"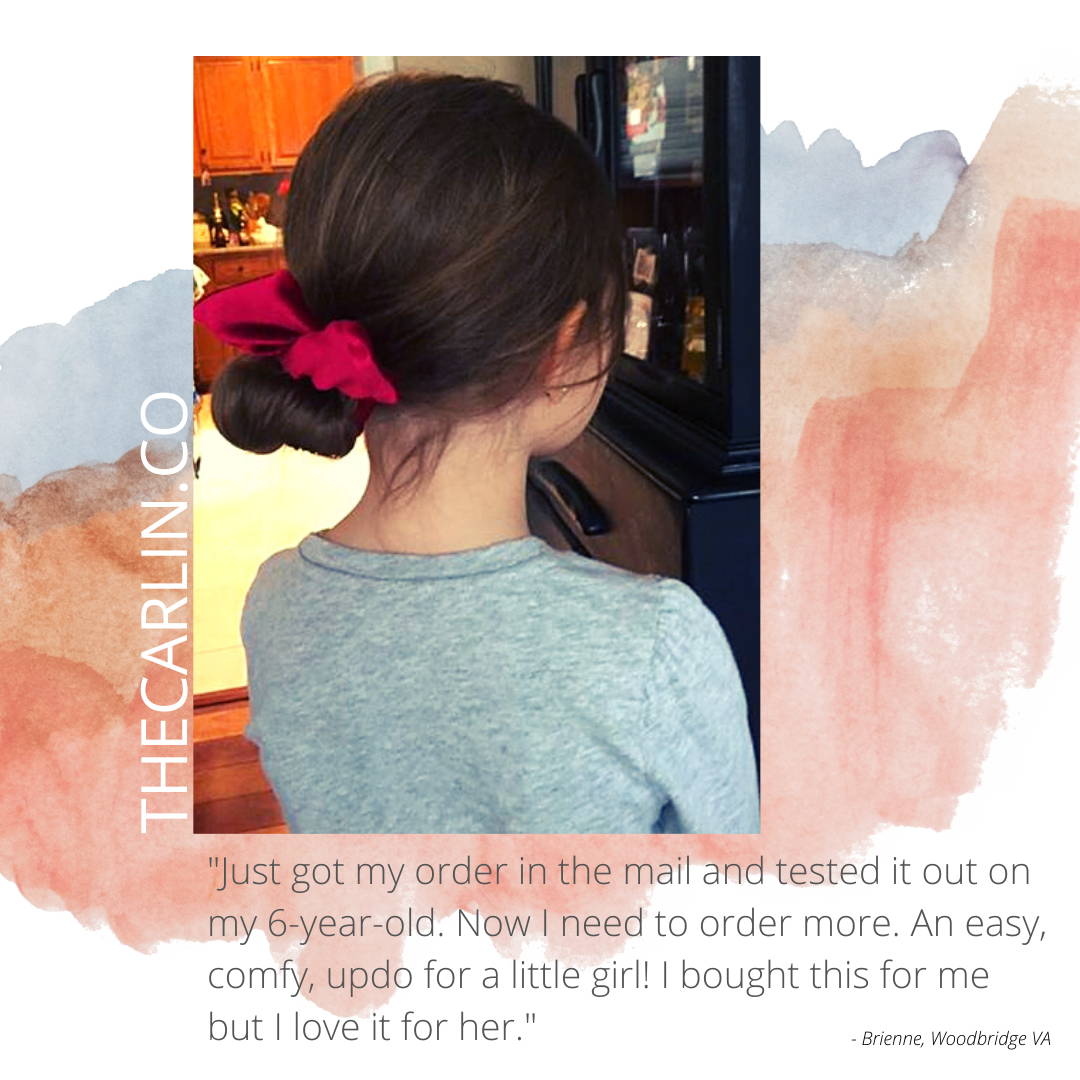 "Just got my order in the mail and tested it out on my 6-year-old. Now I need to order more. An easy, comfy, updo for a little girl! I bought this for me but I love it for her."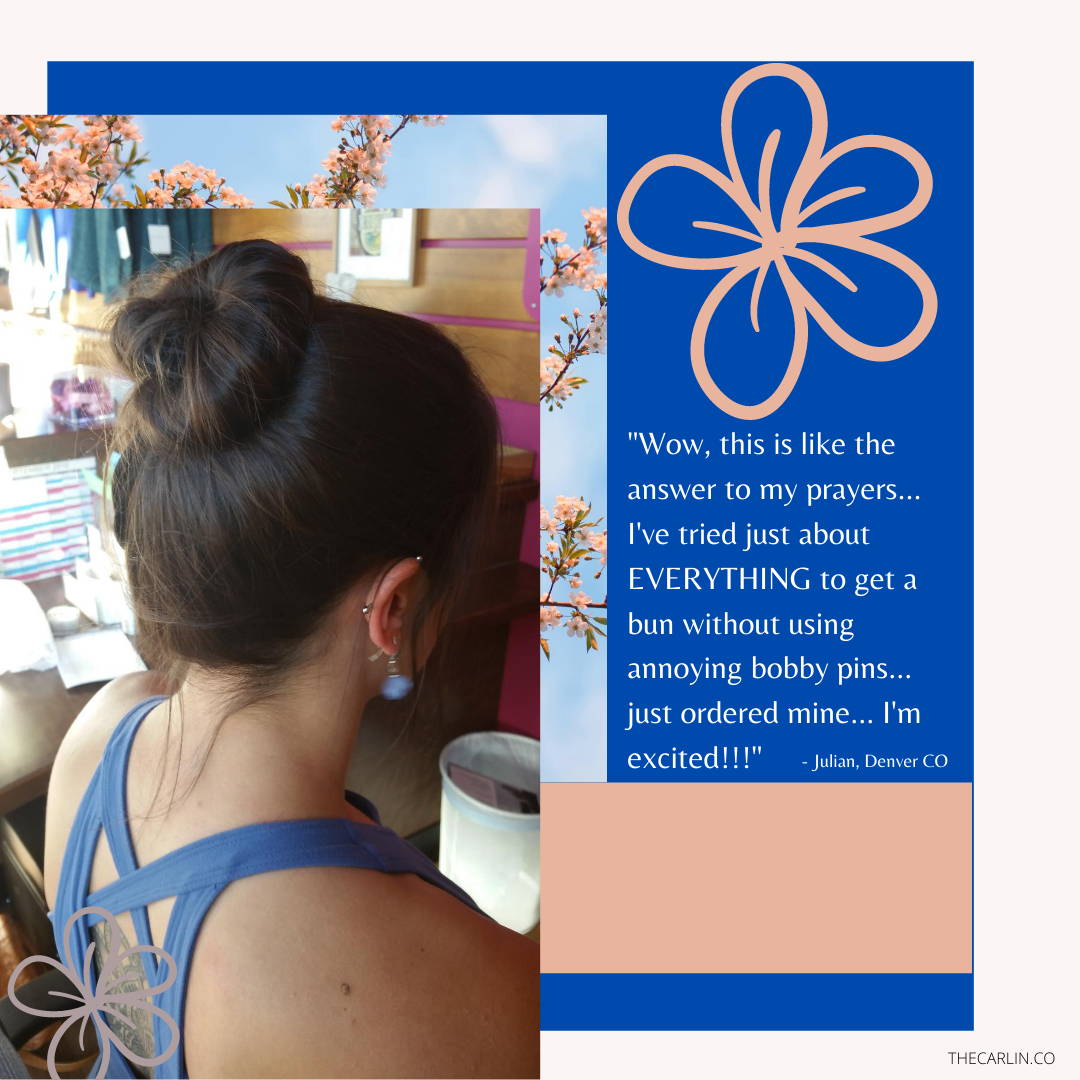 "Wow, this is like the answer to my prayers... I've tried just about EVERYTHING to get a bun without using annoying bobby pins... just ordered mine... I'm excited!!!"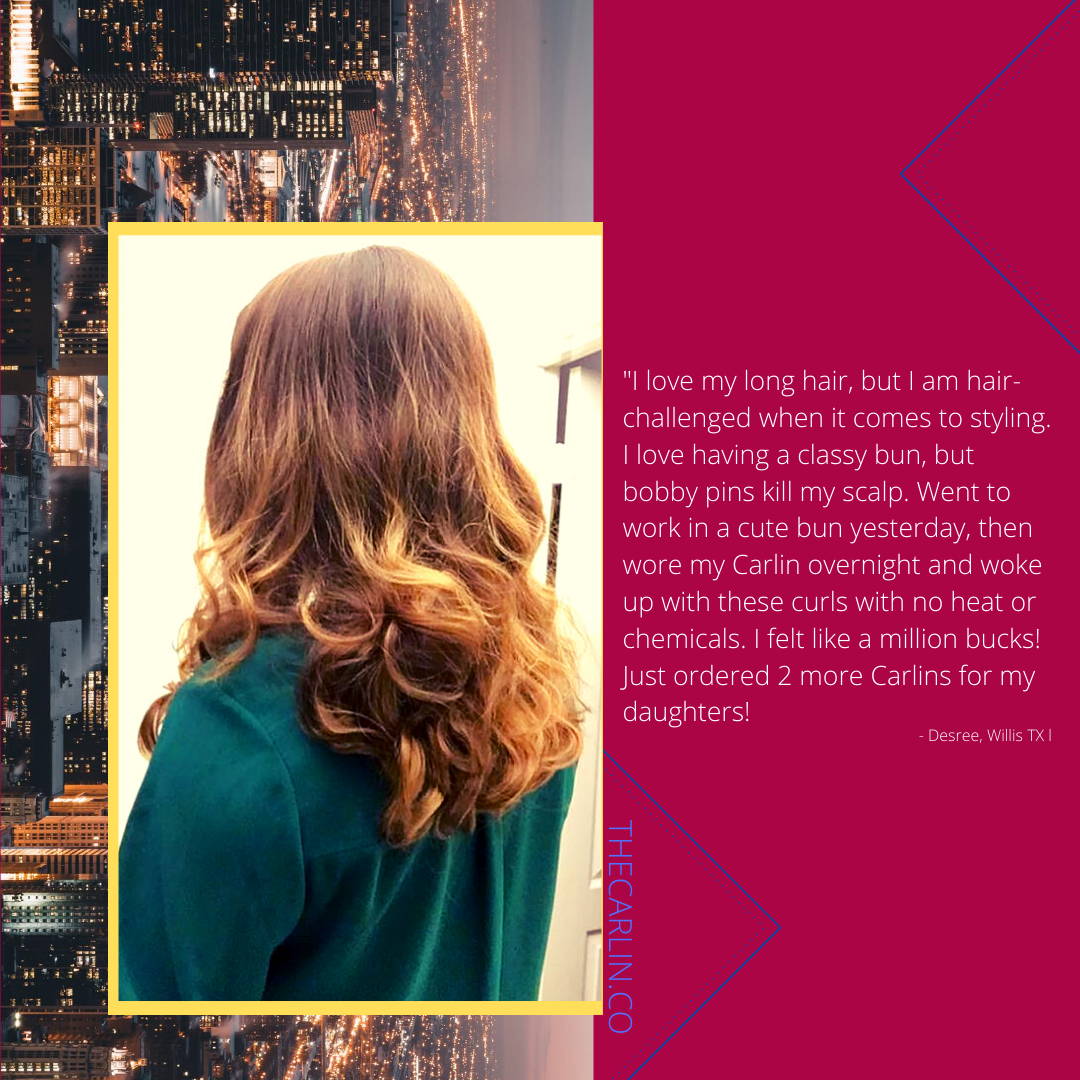 I love my long hair, but I am hair-challenged when it comes to styling. I love having a classy bun, but bobby pins kill my scalp. Went to work in a cute bun yesterday, then wore my Carlin overnight and woke up with these curls with no heat or chemicals. I felt like a million bucks! Just ordered 2 more Carlins for my daughters!
"The best hair accessory!"
- Amanda, Nashville TN
Country Singer/Song writer.
The first model for The Carlin.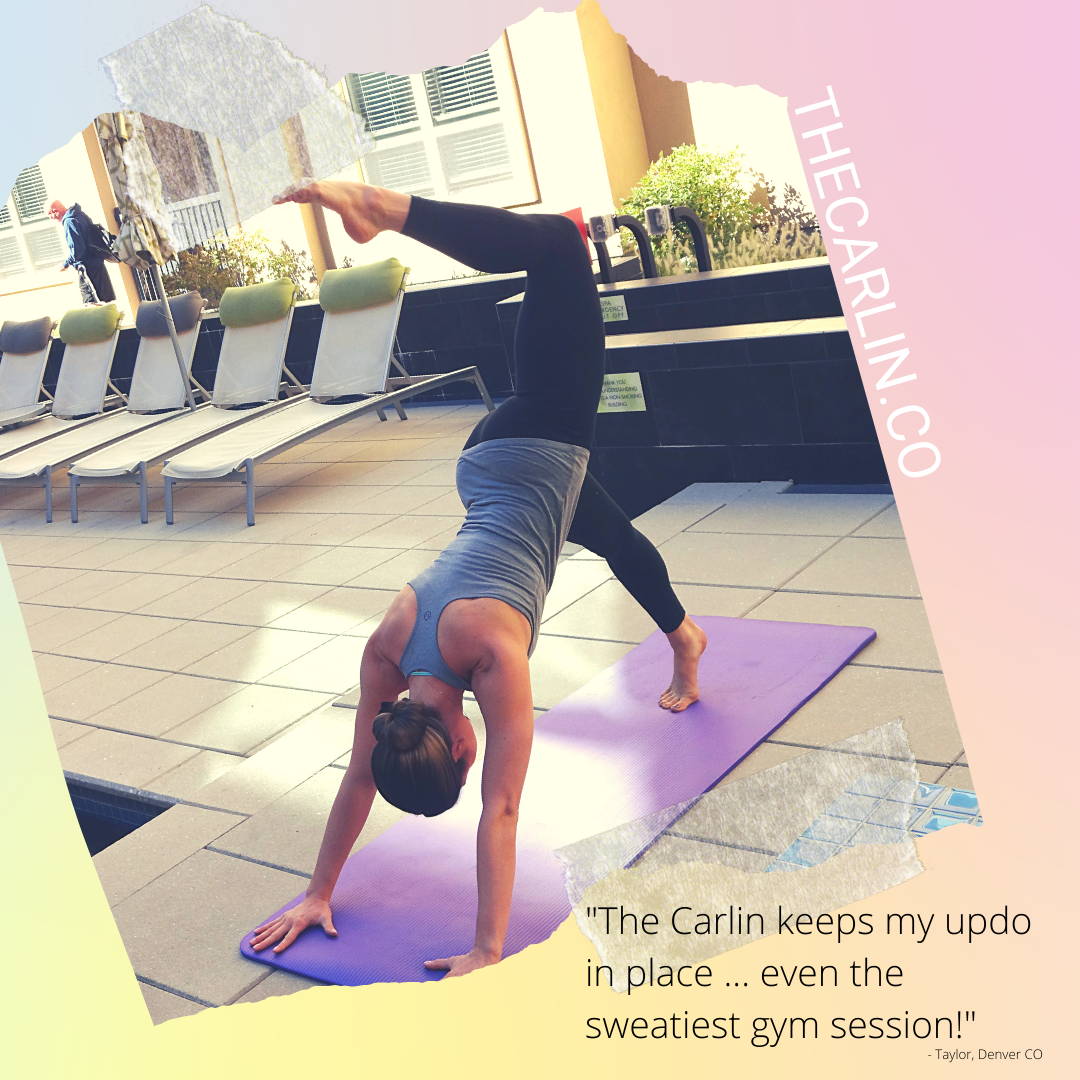 "The Carlin keeps my updo in place... even the sweatiest gym session!"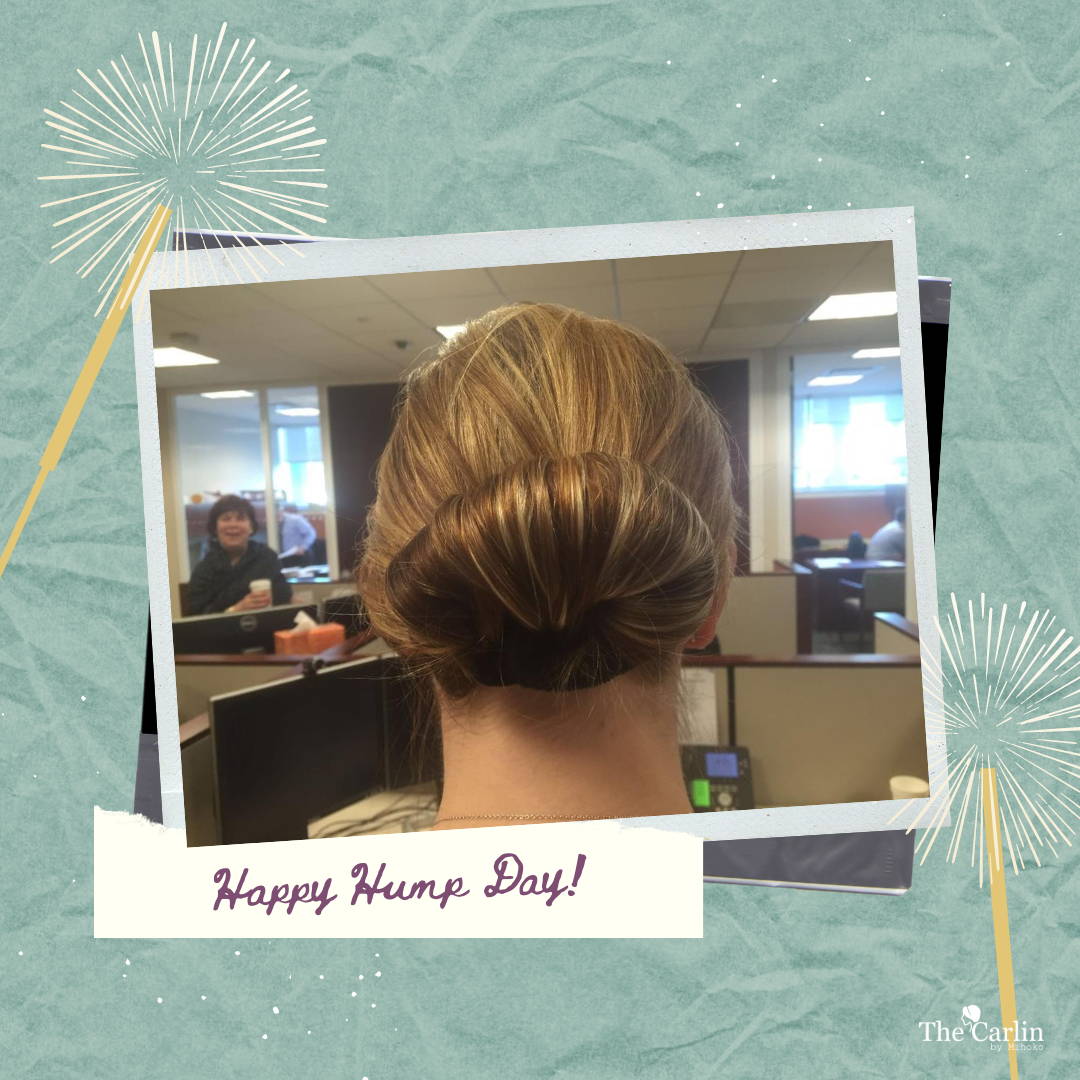 "I never ever have time to really do my hair in the morning. But with the carlin, I can do a very lovely updo that looks pretty & professional"
"Got mine in the mail two days ago and I'm in love! It works so much better than hair ties and Bobby pins or hairnets. I'm a special education teacher and I need to keep my hair up and out of the way for my students with high physical needs, and I know this is going to work so well for that when school starts up next week!"
-Stephanie L Salt Lake City UT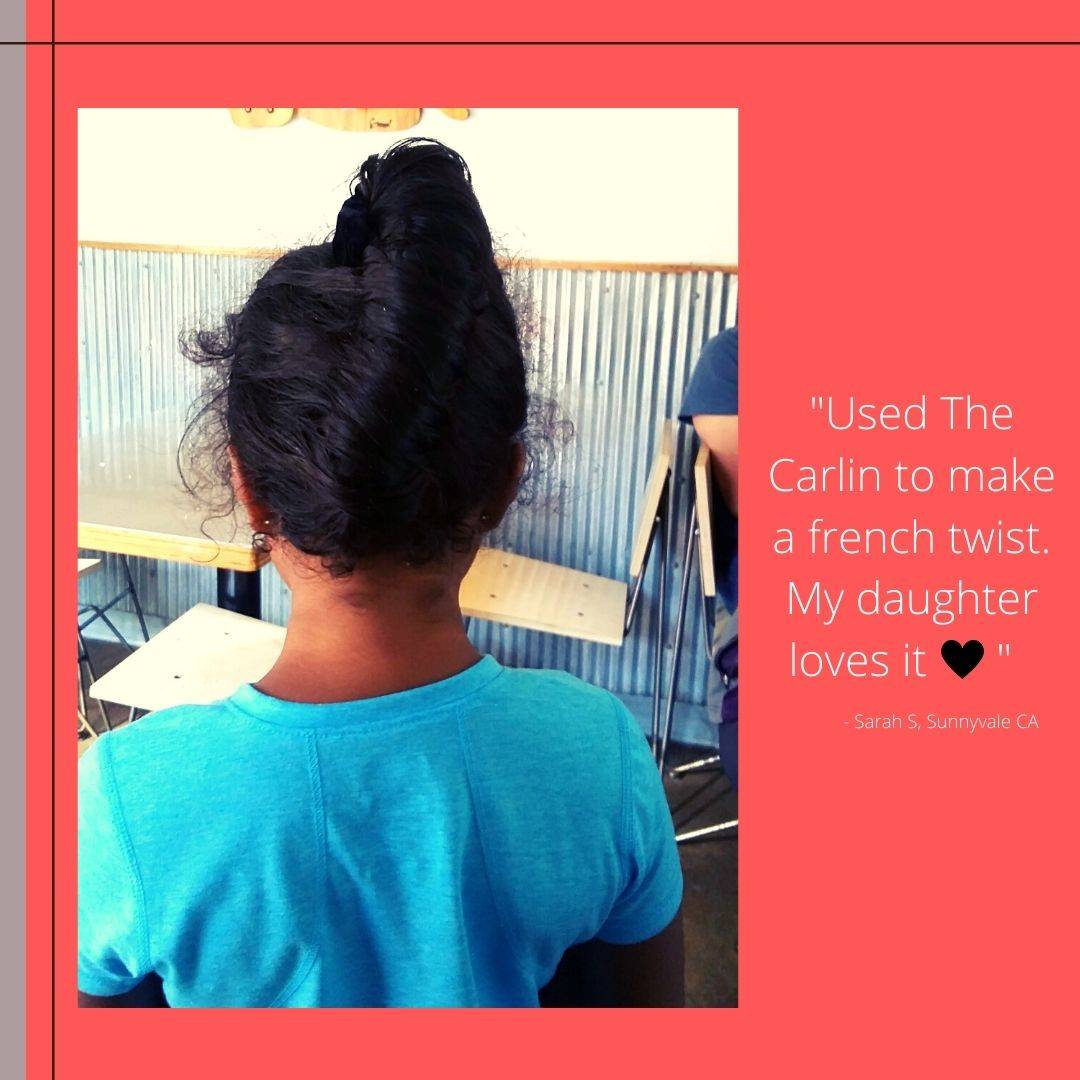 "Used The Carlin to make a french twist. My daughter loves it!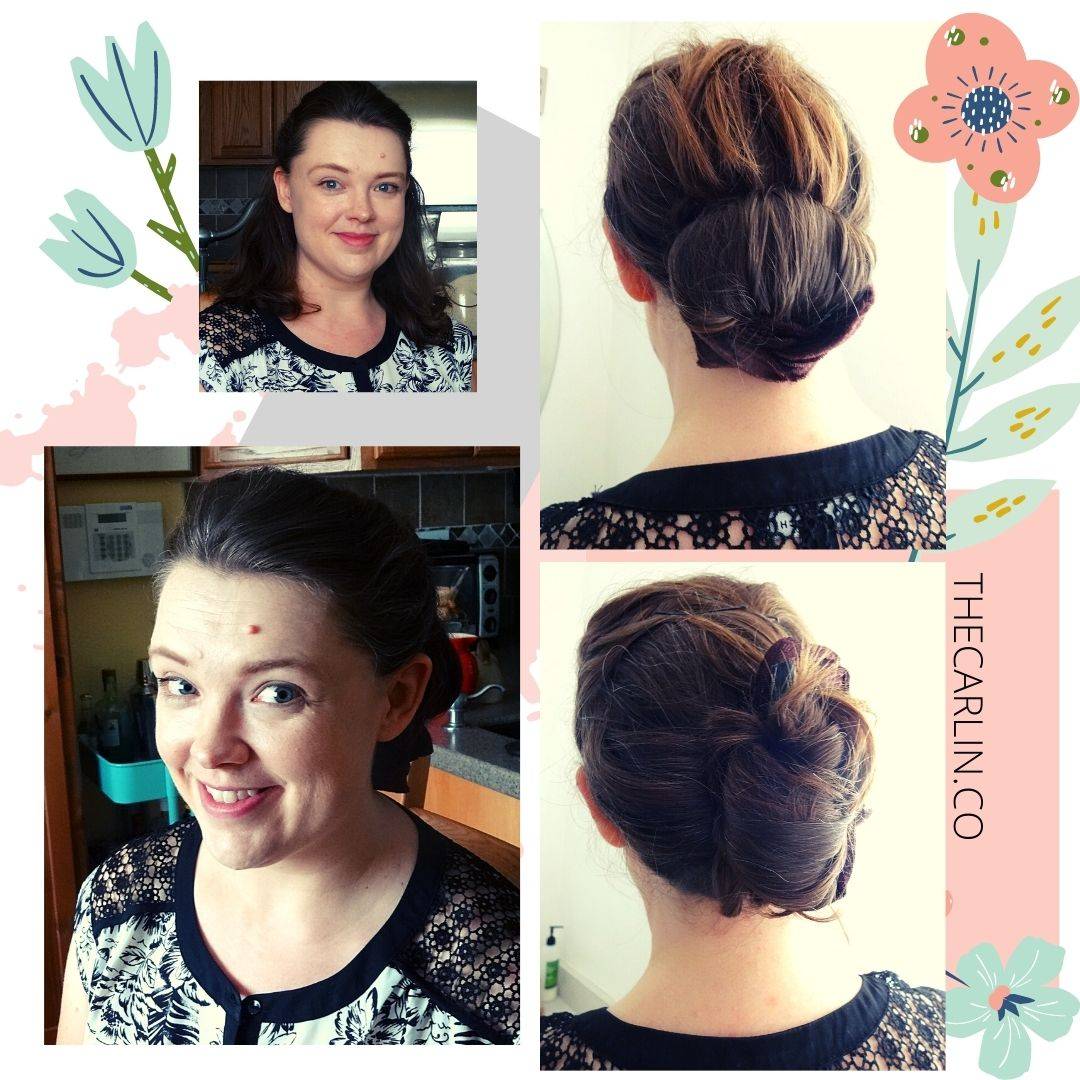 "I bought two and want more colors. Love it so much!"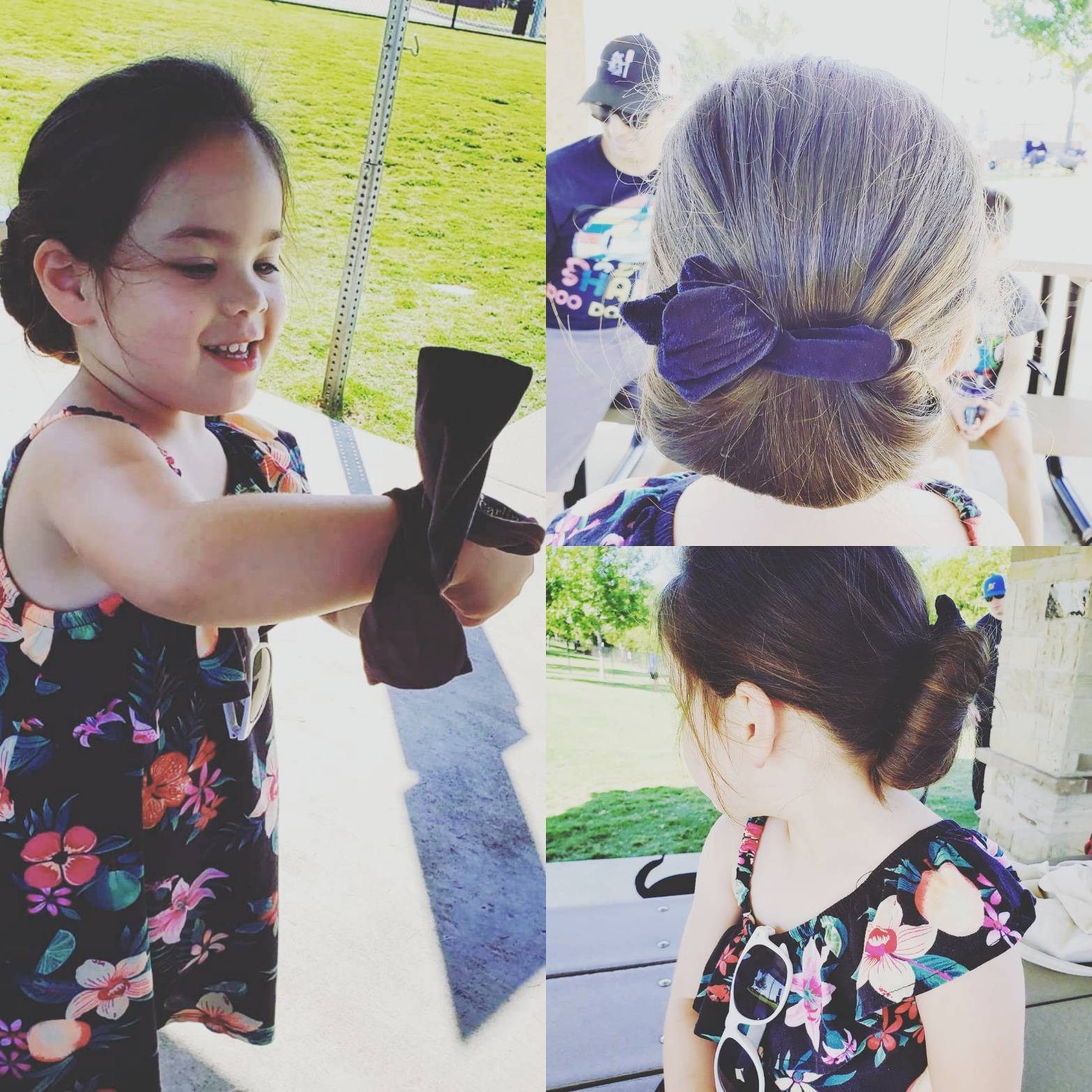 "Omg. This is so much easier than braiding her hair!"
-Adriana M, The Colony TX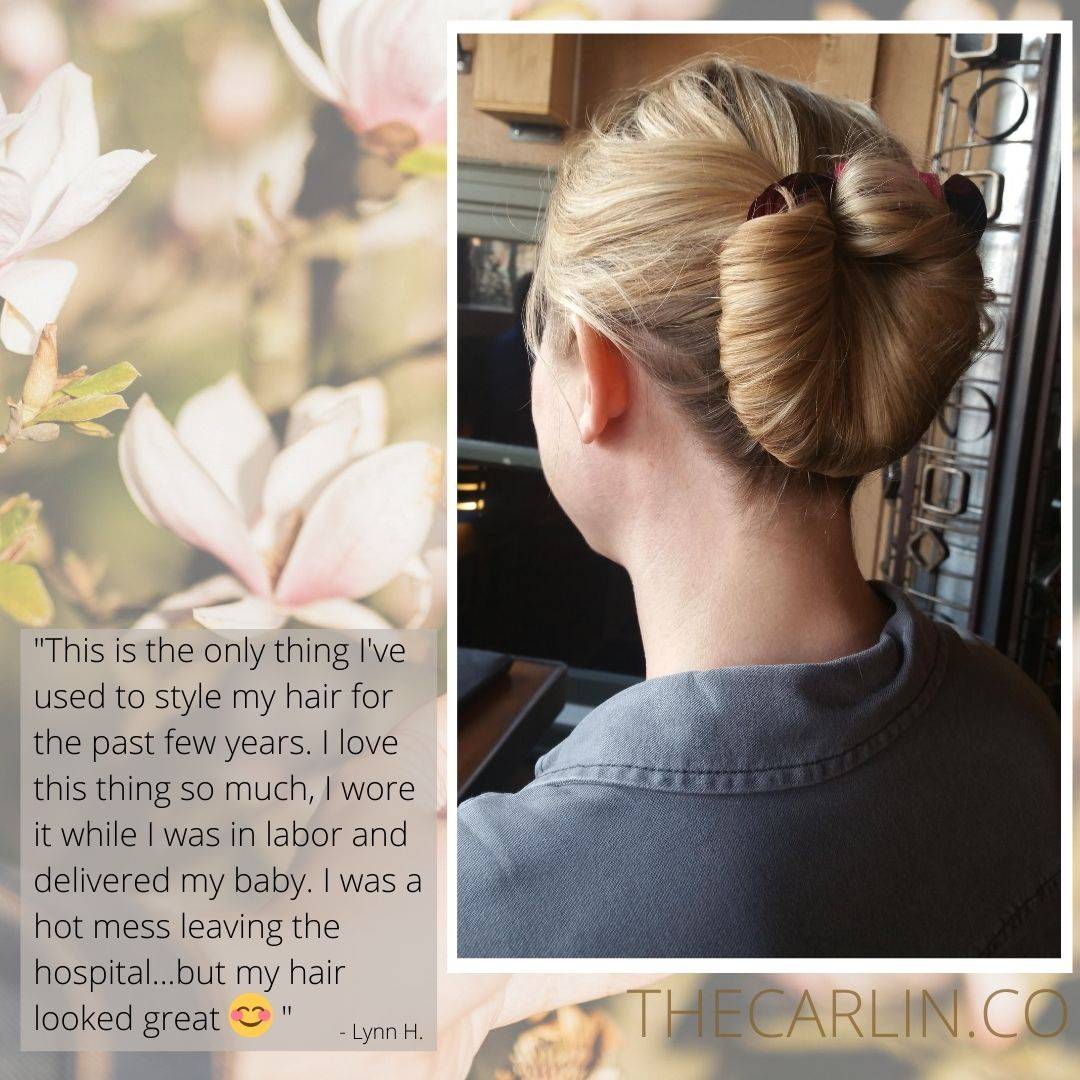 "This is the only thing I've used to style my hair for the past few years. I love this thing so much, I wore it while I was in labor and delivered my baby. I was a hot mess leaving the hospital...but my hair looked great💪"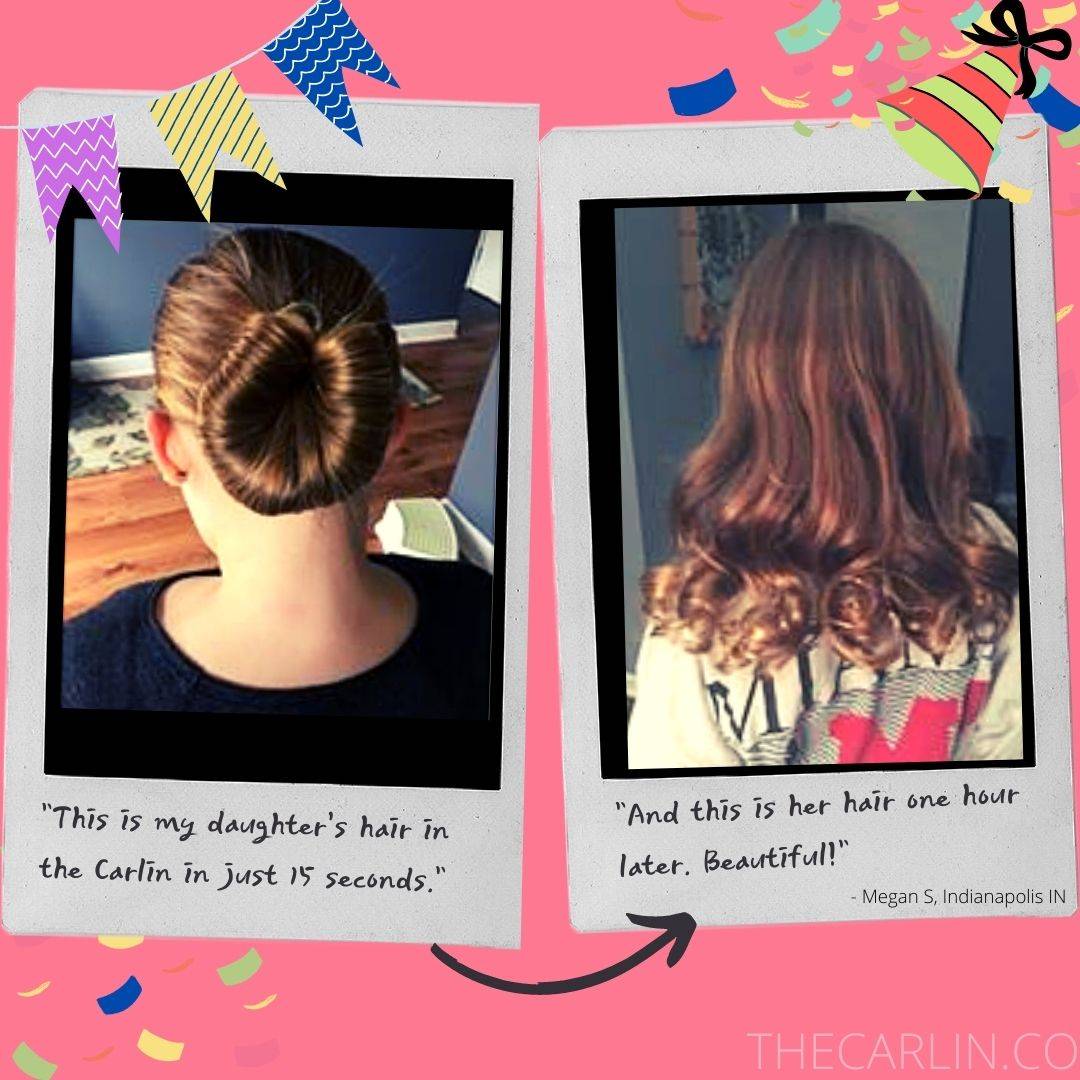 "This is my daughter's hair in the Carlin in just 15 seconds... and this is her hair 1 hour later. Beautiful! 😍"
- Megan S. Indianapolis, IN